Women Agriculture Extension Programes
Enhancing the women participation in agriculture production and service sector in the development process of the country through improving  nutrition , and  socio-economic conditions of women centered family unit.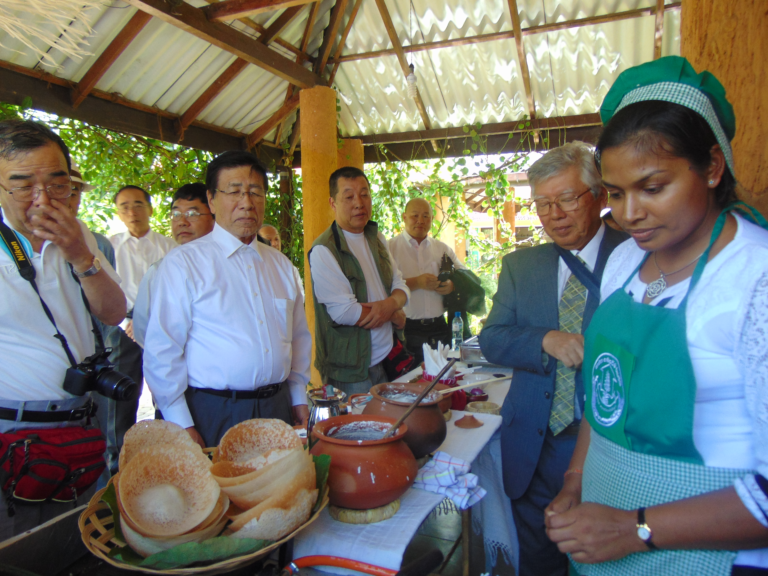 Promotion of local food, establishment and maintenance of Hela Bojun sales centres
At least 20 women entrepreneurs have been given with opportunities to run their basiness in one Hela Bojun sale Centre.
Accordingly, 440 (20 xx 22) women entrepreneurs have been given with training opportunities  in Hela Bojun sales Centre which function under the Department of Agriculture
Activities relating to construction of Hela Bojun sales centres.
Activities relating to modernization of existing Hela Bojun sales centres.
Providing equipments and utenzils needed to Hela Bojun sales centres.
Establishment and running of Hela Bojun sales centres, Providing 2 year. entrepreneurship training at Hela Bojun sales centres to enable them to develop their entrepreneurship skills.
Conducting training programmes with regard to establishment and running Hela Bojun sales centres on the request of Department of Agriculture, Provincial Department Agriculture ,other departments ,schools, hospitals, private sector institutes and individual requests.
Issuing training certificate.
Providing technical support to establish Hela Bojun sales centres at various government institute.
Producing agriculture based women entrepreneurs
Development of related market, input products, and other industries to popularize local food production.
Development of food system, nutrition of family and home garden.
Providing support service for mushroom cultivation development
Bee – keeping development activities
Making necessary arrangements to produce required seeds and plants in regional level.
Development of the skills of women relating to resource management (Financial, labour, time and energy)
Development of subject knowledge of the Officers In Charge of the subject of Women Agriculture Extension who are scatted island wide through conducting training programme by competent lecturers in various sectors.
Conducting the special In-service training annually.
Conducting various workshops and conferences (Farmers' week, World food Day)
Providing training aid to train farmer women in regional and District level for empowerment of them
Registration of Farmer Women Agriculture Organizations scattered Island wide.
Explaining the clients about the strengths of an organizational structure.
Making aware the clients on the services and benefits which are able to be obtained as an organization and directing them to obtain them.
Issuing registration certificates for Farmer Women Agriculture Organization
Empowerment of women by implementation of special projects and agriculture extension programme through Farmer Women Organizations.
 
Conducting propaganda and training programmes.
Leaflets
Brochure
Radio Programmes

Television Programmes