District Agricultural Training Center-Weerawila
District Agriculture Training Center (DATC) is located in the low country dry zone. (DL5) This center was established in 1986 under the project of Lunugamwehera human settlement.
DATC weerawila is mainly responsible for implementing training activities to educate and uplift the knowledge of Agriculture of farmers and youth who areinterested in Agriculture. It conducts training programs to School Children as well as Officers of DOA, PDOA, Other Government and Non-Governmentinstitutions.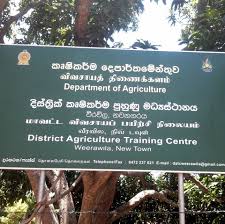 In addition DATC providesfacilities to conduct training programs not related to the field of agriculture and conducted by other institutions and oroganizations. To promote Agriculture among the young generation and increase of NVQ qualified trainees in agriculture, DATC conducts Field Assistant – Agriculture NVQ level 4, one year training programs. Further DATC staff supervise students of certificates, diploma and degree coursers on agriculture.
Mission
Conducting of trainings programs on sustainable agro- technological techniques to create group of farmers, Youngersand entrepreneurswho are well versed in agriculture knowledge and practice. Assistant Director of Agriculture
Mr.N.C.R.Dias