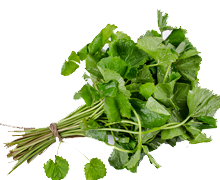 From the ancient Gotukola is a popular leafy vegetable among Sri Lankans. Because of its characteristic specific flavor. It has medicinal values and rich in iron. Therefore it has high market demand.
There are two types of Gotukola based on its growth habit
Bush type
Vine Type
There are three types of vine type Gotukola according to the size of leaves.
Type with large leaves (Giant Gotukola)
Type with medium size leaves (Meerigama selection). This is the most commercially grown Gotukola type and taste is good
Types with small leaves (WelGotukola)
Climatic requirements/ Areas suitable for cultivation
Low country wet zone is more suitable for the cultivation if irrigation facilitates are available, it can be grown in any other areas in the country
Well drained low lands are the most suitable for the cultivation. Suitable soil pH range is 6-7.
Partially matured healthy runners with roots should be selected for the cultivation. Leaves are cut and removed about 2-3 days before taking planting materials.
Planting materials requirement for 100 m2
Types with large size leaves – 5000 – 7500 runners
Types with medium size leaves – 9000-10000 runners
Raised beds or sunken beds should be prepared according to the selected field to facilitate good drainage. Good textured soil with fine filth is more suitable for the growth of deep roots
Runners should be planted according to the specified spacing. Organic manure should be mixed with soil before planting. soil should be well moist when planting. Avoid drying of beds by covering with cadjans.
For the types with large leaves – 20 cm x 20 cm
For the viny types with medium size leaves – 15 cm x 15 cm
Both organic and inorganic fertilizers are applied for the crop
The requirement of fertilizers for 1000 m2 (1/4 ac)
Cattle manuare, poultry manure or compost can be applied. Poultry manure is commonly applied for commercial cultivations
| | | | |
| --- | --- | --- | --- |
| Time for Apply | Urea kg | TSP kg | MOP kg |
| Basal – Applied two days prior to planting | 9.0 | 13.5 | 10.0 |
| Top dressing – 4 weeks after planting | 9.0 | – | – |
| Top dressing – after every harvesting | 4.5 | – | 1.5 |
| Top dressing – at every 6 months | – | 6.5 | – |
Irrigation is important to maintain the soil moisture. Water logging should be avoided
Weed should be controlled to maintain quality of harvest and to reduce spreading pest and disease.
First harvest can be obtained within 100 days from the date of planting. According to the method of harvesting, the number of picks can be varies.
1000- 1250 kg of Gotukola harvest can be obtained from 100 m2 (1/4 ac) field. Harvesting of the crop can be continued for about 2-3 years