Food Research Unit - Gannoruwa
The Food Research Unit (FRU) comes under the purview of Horticultural Crop Research and Development Institute (HORDI) of the Department of Agriculture. FRU is primarily responsible for conducting the research on post-harvest technology & product development of food crops. Quality evaluation of samples derived from crop improvement program is another responsibility of the unit. FRU performs collaborative programs with government, semi-government and private sector organizations on technology development, transfer and use of machineries. In addition, the unit provides necessary facilities and guidance for under-graduate and post-graduate students to conduct their research on diverse aspects of postharvest and food processing technologies.
Mission
Persuasion of research and development tasks in the discipline of post-harvest and processing technologies giving due consideration to Food security, Quality, Nutrition and Food safety.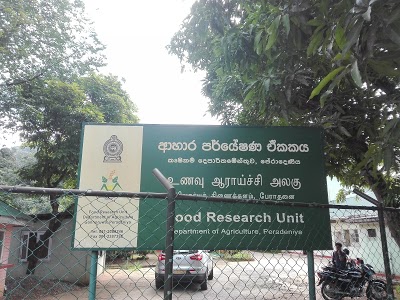 OFFICERS IN THE SUB CENTER- FRU Gannoruwa
Dr. H.R.P Fernando
Deputy Director (Food Research)
Ms. S.M.A.C.U Senarathne
Assistant Director of Agriculture (Research)
Ms. D.N Hettiarachchi
Assistant Director of Agriculture (Research)
Ms. S.P Rebeira
Assistant Director of Agriculture (Research)
Dr .C.K.D.Wellala
Assistant Director of Agriculture (Development)
Mr. R.A.A. Ranathunga
Assistant Director of Agriculture (Research)