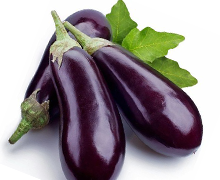 Brinjal is considered as a highly marketable nutritious crop
Climatic requirements/ Areas suitable for cultivation
Crop can be grown up to 1300 m above sea level.
Well drained soil is suitable, pH range from 5.5 – 5.8
3m x 1m beds in better sunlight conditions are suitable. Beds should be sterilized. Add 1:1 ratio of surface soil and cow dung. Seeds should be placed in rows in 6 inches spacing.
Zero tillery or ploughed soil should be prepared and 30m x 30m x 30m holes are suitable
25-30 days old plants can be established in prepared holes as one plant per hole
| | | | |
| --- | --- | --- | --- |
| Time of application | Urea kg/ha | TSP kg/ha | MOP  kg/ha |
| Basal | 75 | 325 | 85 |
| After 4 weeks | 75 | – | – |
| After 8 weeks | 75 | – | 85 |
|   |   |   |   |
Better to supply water for better growth
2,4,7,9,12 days after planting , better to remove weeds
Causal organism:
Ralstonia
solanacearum
Symptoms:
Slight wilting of single branch/ branches
Sudden and permanent wilting of entire plant
Discoloration of the vascular tissues
Slimy viscous bacterial ooze comes out from the cut end of affected parts when immersed in clear
Management
Remove and destroy affected plants with soil
Destroy crop debris after harvesting
Crop rotation with non-susceptible crop (cruciferous vegetables and okra) help in reducing the disease incidence
Use of resistant varieties
Disinfect all farm implements/tools with bleach after they have been
No chemical controlling method
Causal organism:
Phytoplasma The disease is transmitted by a leaf hopper(
Hishimonus phycitiy
)
Symptoms
leaves are narrow, soft, smooth and yellow
Internodes of the stem become shorten
Auxiliary buds get enlarged but their petioles and leaves remain shortened and give the plant a bushy appearance.
flowers remain green/ no flowering
Fruiting is rare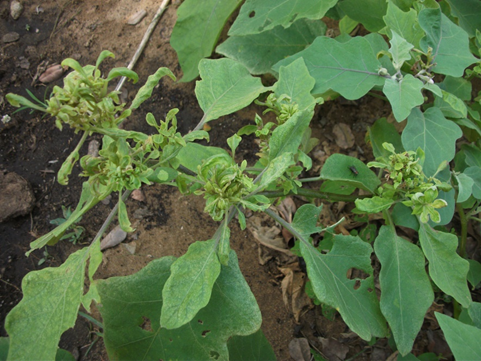 Management • Remove and burn infected plants. • Control leaf hopper with recommended insecticides to minimize disease spread.
Harvesting can be started 10-12 weeks after transplanting. Fruit can be harvested 7 days intervals up to 10-12 picks.
Potential yield depends on the variety. OPV gives 18-20 t/ha and hybrids give 30- 40 t/ha