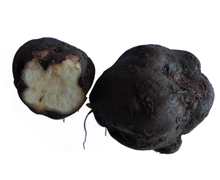 Coleus rotundifollius /Solenastemon rotundifolius
Climatic requirements/ Areas suitable for cultivation
Year around rainfall distribution is better. High day and night temperature gap is important for tuber formation
Most suitable growing areas – wet zone specially Galle, Kalutara, Colombo, Gampaha, Matale, Matara, Rathnapura districts
In addition Kurunegala from intermediate zone and Hambantota from dry zone (Minor)
Well drained light Sandy loam soil
Nursery size is depend on 12% – 15% from the cultivation extent
 light soil is suitable for better tuber formation
Sprouted healthy tubers were used as planting materials
To induce sprouting seed tubers were spreaded on the cement floor
Sprouted tubers were placed on nursery beds with50cmx 50cm spacing
Fertilizer recommendation for nursery ( before planting tubers 4m2 of beds)
| | |
| --- | --- |
| Urea | 15g |
| TSP | 25g |
| MOP | 40g |
| Cowdung | 10-12kg |
To increase shoot growth, liquid fertilizer or cattle urine can be applied as follows,
 At 3-6 weeks  (Some traditional farmers practice)
             Cattle urine 1: water 1
                             OR
             Liquid fertilizers (Albert solution, Green care, Crop master) 2-
At 2-3 weeks, (common used)
             Urea – 10g             For 1m2
             MOP – 10g
Crop pattern is depend upon the season and climatic zone
         Wet Zone – June -july with the onset of rain
          Dry Zone – September – October with the onset of high rain
          Third season cultivation – August soon after paddy harvesting
At the nursery – 50cm*50 cm  sprouted one tuber per hill
Yala season –  cuttings (30cm*30 cm)
Maha season –  cuttings (15cm*15 cm)
Both organic and inorganic fertilizer can be applied to obtain high quality and economic yield
Cow dung  is recommended as organic manure for high yield
| | | | |
| --- | --- | --- | --- |
| Application time | Urea (Kg/ha) | TSP (Kg/ha) | MOP (Kg/ha) |
| Before planting | – | 150 | – |
| 2 WAP | 65 | – | 60 |
| 6-8 WAP | 65 | – | 90 |
| 10-12 WAP | – | – | 60 |
*Fertilizer should be applied before flowering.
*If soil PH is less than 5, 1-2 kg/ha of dolomite can be applied to the soil two weeks before planting to adjust the optimum level.
*Final MOP dose is very important to obtain large and quality tubers.
Depend on rainfall and area
Only for nursery and first month
Not reported earlier, during last 2-3 years Cutworm –attack (Spodoptera litura ) was reported
Nematode damage can be identified with  repeat cultivation of the same crop during prolonged period,
Control
Crop rotation
Application of poultry manure to the soil
Use healthy seed tubers
There are no significant diseases damage identified for the cultivation of innala. But can cause roundworm (nematodes) damage when planting innala in the same field for a long time.
Root nodules caused by roundworms can lead to stunted growth and death of the plant.
To avoid this
Use of healthy seed tubers
Organic chicken manure can be used.
From January  to February,  when vegetative part of the plant is turned yellowing
Use hand fork to expose tubers carefully  from the soil to prevent tuber damages
Average yield 10-12 tons/ha
Potential yield 18-20 tons/ha (Low lands)