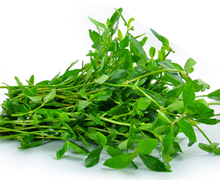 Mukunuwenna is the commercially grown and most popular leafy vegetable type in the market. This is popular due to its nutritional, medicinal and characteristic flavor. The crop is rich in vitamins, calcium and iron
Vine type
Bushy type
Vine type : this type is grown commercially
Type with oval shaped leaves and light green colored stem. Most popular type in the market (Piliyandala type)
Type with oval shaped leaves, brown and green colurs mixed stem.Internodes are very short, mostly grown in pannipitiya, Arawwala areas
Type with long oval shped leaves and brown coloured stem.
Type with large, long leaves, internodes are long with brown or green stem
Type with lanceo late leaves and green or brown colured stem (Weda Mukunuwenna).
Type with long , narrow leaves , internodes are long
Climate requirements/ Areas suitable for cultivation
Low country wet zone is most suitable for the cultivation. If irrigation facilities are available it can be grown in any other areas in the country
Well drained low lands are more suitable for the cultivation. If the irrigation facilities are available, the crop can be grown in uplands. Suitable pH rage is 6-7.
Stem cuttings are used for the propagation. 10-12 cm or longer cuttings can be planted or broadcasted.
Raised beds for low lands (paddy fields) and sunken beds for highlands are more suitable.
Soil is ploughed and allowed weeds to decompose. Then the fields are filled with water and take a fine filth and levelled. Drains are prepared to facilitate the drainage.
Stem cuttings are planted in specified spacing or randomly. Single cutting is planted at one point.
Stem cuttings can be planted randomly or with the recommended spacing. Inter row spacing is 20 cm and intra row spacing is 10 cm
Organic fertilizer and chemical fertilizers are applied poultry manure is the commonly used organic fertilize in commercial cultivations. Nematode problem can be minimized by using poultry manure.
Fertilizers for 1000m2 (1/4 AC) area
-organic fertilizers 01 ton
-chemical fertilizers  
| | | | |
| --- | --- | --- | --- |
| Time of Apply | Urea kg | TSP kg | MOP kg |
| Basal – Applied 1-2 days before planting | 9.0 | 13.5 | 10.0 |
| Top dressing – After first harvesting | 9.0 | – | – |
| Top dressing – 2 nd harvesting and followed it at each harvesting | 5.5 | – | 1.5 |
| Top dressing – at every 6 months | – | 6.5 | – |
Irrigation is done frequently to maintain the moisture at the top layer of the bed. Water lodging should be avoided.
During the land preparation weeds should be controlled as much as possible. Hand weeding should be practiced throughout the cropping cycle
This description will be available soon…
Till then, please access the Sinhala language page on disease control through below link.
First harvest can be obtained at four weeks after planting. Harvesting can be done at every 3-4 weeks after first harvesting.
1000-1200kg of harvest can be obtained at once from 1000 m2 field.
By maintaining the field properly the crop can be harvested for two years. (8-10 picks in one year)\
At about 2 years the yield is reduced and the crop should be removed. Crop rotation should be practiced without planting the same crop again in the field.