Television and Farm Broadcasting Service(FBS)
Internet radio (also web radio, net radio, streaming radio, e-radio, IP radio, online radio) is a digital audio service transmitted via the Internet. Broadcasting on the Internet is usually referred to as webcasting since it is not transmitted broadly through wireless means. It can either be used as a stand-alone device running through the internet, or as a software running through a single computer system.
The internet radio of Department of Agriculture is the Krushi Radio.www.krushiradio.lk is the web address for this web radio. It was started on 26th December in 2013. As a media to address the entire farming community, FBS believe that Krushi Radio can do a big task with the evolution of the present IT scenario.
FBS started a Mobile application to popularize this radio among mobile phone users and to be a user friendly media.
It is simply to insert this application to mobile phone using few icons within few seconds.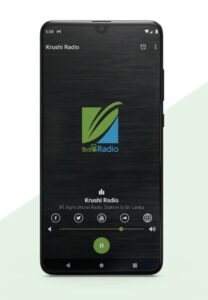 Mobile application seen in the phone